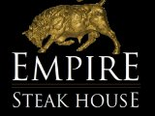 Empire Steak House East 50th
151 E. 50th Street
New York, NY, 10022
(212) 586-9700
About Empire Steak House
Quite arguably the #1 destination in New York City for the best steaks in the sexiest ambiance. The space originally opened in the 1920s as an opera house and has been recently restored to its full grandeur. The venue also features a large 2nd floor private space that converts to a nightclub on the weekends.
Cuisine
Steaks are certainly the focus but the lobster and other seafood items are also popular and very fresh. There is also an ample selection of pastas and other Italian specialties as well as salads and desserts.
Location
In the heart of Midtown East, Empire is within walking distance of most major hotels and offices, Rockefeller Center and Grand Central.
View all images