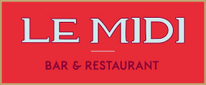 Le Midi Bar & Restaurant
11 E 13th Street
New York City, NY, 10003
(212) 255-8787
Established in 2012, Le Midi, near Union Square in downtown Manhattan, is a friendly casual bistro serving classic country French dishes with a nod to the south of France. The menu features popular favorites such as French onion soup, coq au vin and steak tartare among others. Use this link to view our menus.
Visit this link to check out a virtual tour of all our rooms
Choose from daily specials and eat at the bar or in the spacious dining room. Or, for a light bite, there is a bar menu. Old movies are screened silently on the big screen behind the bar. Le Midi is open seven days a week for lunch, dinner and brunch.
Capacity
With 1,000 sq ft of space and a total capacity of 100 people, Le Midi suits both small groups and larger parties. The restaurant can seat up to 80, while the bar can accommodate 17 people seated and up to 25 standing.
Special Offer and Discounts
Lunch Prix Fixe: Two courses for $19.95 available Monday – Friday from 11.30am – 4pm.
Dinner Prix Fixe: Three courses for $28.95 available Monday – Saturday from 5pm – 6.30pm and all evening Sunday.
Happy Hour: Weekdays from 4-7pm and noon to 7pm on weekends.
Weekend Brunch: Join us Sat and Sun, from 11.30am – 4pm. Includes Bellinis, Mimosas and bloody Marys for just $5 each.
Parties and Events
Le Midi hosts all kinds of events and parties. These include business lunches and dinners, wedding parties, book launches, birthday, anniversary and holiday parties, baby showers, bachelorette parties, networking events, wine tastings and more. One of the most notable events Le Midi has held was Katie Couric's bachelorette party for 45 girlfriends in June 2014. This included drinks and dinner in Le Midi and a performance by a live gospel choir, followed by karaoke in the Karaoke Cave beneath the restaurant.
Plaudits
Le Midi has a four-star rating on Yelp, OpenTable and Tripadvisor and has been featured widely in the press. Positive coverage includes articles or reviews in Daily Food and Wine, New York Magazine, The Village Voice, Zagat, The Examiner, New York Journal, Manhattan Sideways, Millennium magazine, Daily Mail (UK) and Washington Square News.
The Karaoke Cave
The fully soundproofed Karaoke Cave is located in the basement of Le Midi. It was featured in Time Out's 'Best karaoke bars in New York' list in June 2015. With a fun and friendly vibe, you can belt out anything from Bob Dylan to the Spice Girls from the extensive and regularly updated songlist. There is a bar and lounge plus four private rooms that can be reserved (call 646 486 3225 to book). Karaoke Cave has an extensive song selection and Happy Hour Sunday – Friday from 5-8pm.
View all images