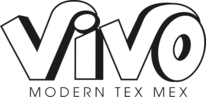 VIVO
6406 North Interstate Highway 35 Ste 2343
Austin, TX, 78752
(512) 407-8302
About Vivo Modern Tex Mex
Vivo is located in North Central Austin in the Lincoln Center off IH35, just a short block North of Hwy 290 and across from the Austin Community College's Highland campus.
---
COVID UPDATE***
We are taking a very limited amount of reservations at this time and will allow some walk ins as space allows. We are asking diners to please limit your stay inside the restaurant to 1.5 hours in order for us to properly sanitize and prepare for the next table. Please be patient with us, as we do our best to keep our staff and you the customer safe. Please be aware that our seating may change at any moment, we appreciate your patience.
The restaurant features dark red walls, modern art and lighting, and table cloths and candles at night. They're open 7 days a week for lunch and dinner with an active brunch scene on the weekends.
The Menu at Vivo
The menu features classic Tex Mex options like enchiladas, tacos, and combo plates. They also offer a few designer entrees like the Shrimp Relleno with a grilled poblano pepper stuffed with shrimp and queso Oaxaca topped with a spicy roasted pepper cream sauce for $15.95 and Pollo Vivo with grilled chicken breast covered with tomatillo sauce, monterrey jack, and avocado slices for $11.95. Both dishes come with rice and beans. Vivo also offers some killer margaritas that we highly recommend you try. Here's a link to the menu section on their website.
View all images