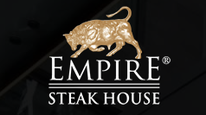 Empire Steak House West 54th
237 W 54th Street
New York, NY, 10019
(212) 586-9700
The Sinanaj Brothers dream began during their younger years. They wanted to create a restaurant offering the finest cuts of steaks, the freshest seafood and the best selection of wine where people would gather for exceptional service, in a beautiful surrounding that made you feel at home. This journey has been a 25 year passage.
After working at Peter Luger Steakhouse in Brooklyn for over a combined 2 decades, they realized they were finally ready for their dream to come into fruition. The first chapter of their would be success began with Ben and Jacks Steakhouse in 2005, which lead to the opening of Empire Steak House in 2010.
Besides serving their famous USDA Prime Dry-Aged Porterhouse (for two, three, or four) you will find some of the most incredible seafood, poultry, and pasta dishes. You can find a selection of over 350 of some of the best wines in the world to accommodate each and every dish.
View all images