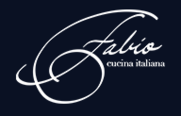 Fabio Cucina Italiana
214 East 52nd Street
New York, NY, 10022
(212) 688-5200
With a career spanning across two continents and twenty seven years, Chef Fabio created an Italian culinary haven known as Fabio's Restaurant located at 214 East 52nd Street in the heart of Midtown East.
Throughout his formative years in Rome, Italy and in NY, he perfected signature dishes such as Fettucine alla Fabio, made with porcini mushrooms and a delicate sauce that enhances the woody taste of the mushroom without overpowering the palate. Another classic dish includes the Risotto Crema di Scampi, made with the freshest fish and lightest of creams.
Fabio was a perfectionist both in the kitchen and out. He personally selected his produce and vegetables directly from the market daily, ensuring top quality and freshness of all his ingredients. The same freshness applies to the pasta dishes – all are homemade and great attention is paid to preparation and detail. He went out of his way to prepare dishes upon request for guests. At Fabio's, you can be sure that Chef Kiku follows in Fabio's footsteps to honor his tradition ensuring customers feel at home.
View all images