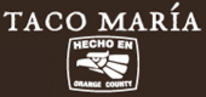 Taco Maria
3313 Hyland Ave Ste C21
Costa Mesa, CA, 92626
(714) 538-8444
Taco Maria is a modern Mexican restaurant in the hungry heart of Orange County.
Ours are the flavors of traditions transplanted into Southern California's multicultural soils, alongside local produce and regional meats and seafood, by a Michelin-starred chef raised here in Orange County.
We call it, "Chicano Cuisine" – a mezcla of Mexican and American cultures, a conversation between our generation and the generations of humble cooks who nurtured the traditions of our home table.
View all images