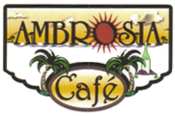 Cafe Ambrosia
923 E Broadway
Long Beach, CA, 90802
(562) 432-1098
Café Ambrosia – Authentic Greek Cuisine and Vegan Creations
Retreat to a Mediterranean oasis in the city of Long Beach. Only a short walk away from the beach, Café Ambrosia has a relaxed and sophisticated atmosphere with romantic fireplaces, fire pits, heated garden patio, a "koi" pond with water fall and flavorful, authentic homemade Greek cuisine, making it the perfect destination for your next date or meal out with friends! They also deliver within 2 miles!
With vegan and vegetarian options inspired by a traditional healthy Mediterranean diet, Café Ambrosia's delicious and plentiful Greek home cooking will have you licking the plate (and your fingers) clean. They use only the healthiest and freshest ingredients without preservatives, MSG, additives or canned, pre-frozen food. Healthy never tasted so good!
While dining on Café Ambrosia's delicious and nutritious cuisine, you can also savor one of their wide varieties of wines, cocktails and beers. With breakfast, lunch and dinner options at affordable prices, Café Ambrosia has the most taste and the most value. You only need one visit to fall in love with their great ambiance, high-quality food and fantastic service, so stop by and have a mimosa anytime $1.99/glass or enjoy a chicken pita platter! Lunch starts at $7.99 & Diner at $8.99. Happy hour specials (Drinks starting at $1.99 and meals for $3.99) Monday through Friday!
View all images