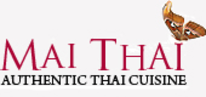 Mai Thai
207 San Jacinto Blvd
Austin, TX, 78701
(512) 482-8244
About Mia Thai
Located at 207 San Jacinto Blvd, Mai Thi is 1 one block West of the convention center between 2nd and 3rd streets in the heart of downtown Austin. Mai Thai is definitely our favorite Thai restaurant in Austin and a great option for anyone dining downtown. Being family owned and operated, they take pride in delivering authentic dishes to customers quickly and consistently.
The Menu at Mai Thai
Mai Thai's menu is well-rounded with a variety of choices from soups, salads, curry dishes, rice, stir fries, and noodles – all of which offer choices of beef, pork, chicken, shrimp, and tofu. The restaurant has many appetizers as well as vegan, vegetarian, and gluten free options. One thing we love about Mai Thai is the reasonable prices. You can choose an order of 2 Soft Spring Rolls ($5), 4 Skewers of Satay Chicken with peanut sauce ($7), a Green Curry with chicken ($12), Pad Thai oodles with chicken ($11), and bottle of Hess Cabernet ($29) for a total bill of $64. You can't find a better deal in downtown Austin.
View all images