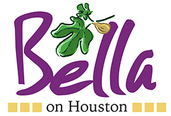 Bella on Houston
204 E. Houston Street
San Antonio, TX, 78205
(210) 404-2355
We are the former Bella On the River (Restaurant) that operated on the San Antonio River Walk for over 7 ½ years, re-located and established as Bella on Houston. Bella on Houston, 204 E. Houston Street, is located in the historic Brady Building in the heart of downtown San Antonio. We remain a local and independently operated restaurant, featuring Southern European, mostly Mediterranean food.
Our executive Chef Sean Fletcher continues to lead his crew creating and producing outstanding food that is fresh, unique, and different, with great quality and consistency, and a really good value. Our professional and friendly service staff remains dedicated to making all our guests welcome and appreciated with our "we are glad you're here!" focus and attention. The Bella on Houston dining room and bar features a contemporary European design with an old-world feel, candle-lit tables, a casual and comfortable atmosphere, and an intimate and cozy vibe.
As Bella On the River, we were proud to be the San Antonio Express-News Critics' Choice for The Best River Walk Dining, four of our seven years, in 2017, 2016, 2013, and 2012, and we are committed to achieving the same guest satisfaction, rave reviews, and success as Bella on Houston!
View all images