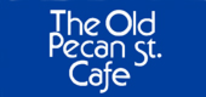 Old Pecan St. Cafe
504 Trinity Street
Austin, TX, 78701
(512) 478-2491
In the heart of Austin Texas, within walking distance from dozens of nearby hotels, the Capitol, the Austin Convention Center, Austin Duck Tours, Esther's Follies, and the Congress Avenue Bridge Bats the Old Pecan Street Café is a prime location for any event and an ideal destination for local and out-of-town guests. Dining at the historic Old Pecan Street Café is the best way to enjoy the flavor of Austin at its finest.
About the Old Pecan Street Cafe Menu
The Old Pecan Street Café features an on-site bakery, serves fresh bread and decadent desserts daily, and is home to the famous Pecan Pie and Italian Cream wedding cakes. We specialize in an assortment of delicious crepe entrees, quiche, salads, pasta, steak, and seafood. And incredible brunch is served Friday – Sunday.
View all images