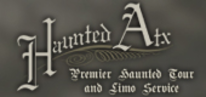 Haunted ATX
501 N IH35
Austin, TX, 78702
(737) 210-1869
Haunted ATX offers the ONLY mobile haunted tour in Austin.
Haunted Tour
Climb into a classic Cadillac hearse that has been converted into a spooky limousine and visit several historic Austin landmarks that are reportedly haunted or have experienced paranormal activity, including the Tavern, Driskill Hotel, Clay Pit, Littlefield House, and more. We do get out of the hearse frequently and go inside the establishments, but walking is minimal. Haunted Hearse Limo Tours are fun, inspiring, and scary!
The hearse limo seats 4-7 people. Taller/larger guests typically seat 4 comfortably and smaller guests can seat up to 7 comfortably. If booking parties fewer than 6, please be aware that other tour guests may join you. Minimum party size is 2 people, but solo guests are welcome to join existing tours. (Contact us if you're a solo rider who would like to join a tour.)
Tours run nightly, year-round, and last approximately 2.5-3 hours. All tickets include complimentary bottled water and sodas. Adults may bring other beverages. Minimum party size is 2 people; solo riders should call or write and we'll try to add you to an existing tour. VIP tickets, if available for your chosen date/time, are $99 per person (see VIP details below).
VIP EXPERIENCE
VIP tickets ensure that the car and driver are reserved for YOUR GROUP ONLY. VIP also includes custom perks like personalized pick-up and drop-off locations and complimentary flower/balloon requests. Minimum party size is 2 people. *Parties of 3 or more seeking the VIP experience should call for DISCOUNTED RATES. Complimentary champagne (or non-alcoholic beverages) waiting on ice!
$45 per passenger Regular tickets.
$29 per passenger

VIP

tickets. (Enjoy private tour group and other custom perks!) Parties of 3+ seeking

VIP

experience may call for

DISCOUNTED

RATES

.
Minimum party size is 2 people.

ALL

TICKETS

: We're happy to accommodate all reasonable requests free of charge. Let us know how we can make your tour even better!
The trip lasts approximately 2.5 hours starting at 7pm, 8pm, or 10pm depending on the day/season, (please click through the reservation process to find available dates/times).
Hearse limo features a state of the art sound system and you

CAN

BRING

SPIRITS

and/or family refreshments.
You will also receive a 2-for-1 entree coupon for the Clay Pit Restaurant, one of your spooky tour spots, (to be redeemed anytime).
Tours meet near the intersection at 51st Street and Lamar Blvd.
View all images