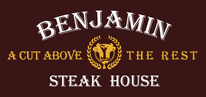 Benjamin Steakhouse
52 East 41st Street
New York, NY, 10017
(212) 297-9177
The History of Benjamin Steakhouse
After more than 35 years in the meat preparation business, executive chef Arturo McLeod partnered with fellow Peter Luger alumnus Benjamin Prelvukaj to create Benjamin Steakhouse. Benjamin Steakhouse has established itself as one of New York's premier steakhouses, attracting business professional and celebrities alike.
The Ambiance at Benjamin
Benjamin Steakhouse's handsome interior certainly plays a part in the restaurant's distinction. M. Castedo Architects reworked the interior of the historic building without sacrificing classic fixtures or the landmark structure. Soaring ceilings, large white columns, brass chandeliers and a 10 foot fire place dominate the 5,000 square foot space and mirror the opulence and grandeur of nearby Grand Central Station. We deliver a swanky Manhattan vibe 7 days a week for breakfast, lunch, and dinner.
About the Menu
Benjamin Steakhouse is ideal for both the fashionable, the businessmen & the families. In an upscale, yet casual environment, diners can choose from our menu that features succulent lobster, fresh seafood & gourmet salads, in addition to our famous steaks. Reservations highly recommended!
What's Nearby
Located just one block from both Grand Central & the NY Public Library in Midtown East. Less than 10 minute walk from Empire State Building, the Theater District, Rockefeller Center & the Waldorf Astoria.
View all images